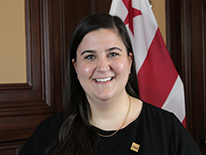 Eileen (she/her) serves as the Special Advisor for single adults and Veteran homelessness with the Interagency Council on Homelessness (ICH). Additionally, she has over seven years of experience with the Homeless Management Information System (HMIS) and coordinated entry implementation, locally referred to as Coordinated Assessment and Housing Placement (CAHP).
Before joining the ICH in July 2022, Eileen worked for The Community Partnership for the Prevention of Homelessness (TCP) which serves as the District's HUD Continuum of Care (CoC) Collaborative Applicant, HMIS and Coordinated Entry Lead Agency. At TCP, she was responsible for the implementation of CAHP for all subsystems, including single adults, Veterans, families, and unaccompanied youth. Eileen also supported broader system coordination (including efforts to update standards and operating procedures for the HMIS) and funding efforts including the District's implementation of the 4.8 million HUD Youth Homelessness Demonstration Project (YHDP) and response to the annual HUD CoC Notice of Funding Opportunity (NoFo). She also served as one of TCP's representatives on ICH committees and workgroups. She contributed to drafting Homeward DC 2.0, the District's Strategic Plan to address homelessness, and Solid Foundations, the District's Strategic Plan to End Youth Homelessness.
Eileen's commitment to reducing and ending homelessness began as she pursued her bachelor's in social work at Elizabethtown College in Pennsylvania. She moved to the District in 2014 to attain her master's degree in social work at the Catholic University of America. She currently lives in Silver Spring, Maryland with her husband Shaun.