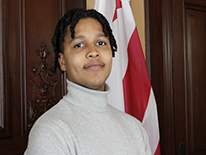 Daisean Foster (he/him) has extensive knowledge on conceptualizing and creating designs to convey critical messaging to target audiences. He is a graphic designer having graduated with a bachelor's degree from Barry University. Daisean is multifaceted and can create designs out of a variety of art media. He can draw, paint, sculpt and build-out important communications for mass consumption from just about anything he imagines.
Daisean is well versed in the Adobe Create Suite including Photoshop, InDesign, Illustrator, Animate and After Effects. Daisean previously worked as a graphic designer for the Barry University Marketing Department and was a graphic designer for non-profit organizations, including Life Help Haiti based in Miami. He tutored aspiring designers in the artform and functionality of graphic design.
Daisean's passion for design and helping his community matches well with the Interagency Council on Homelessness.